By Jason Apuzzo. Just for fun on the weekend, we thought we'd post some 3D video.  You will need an old-fashioned pair of anaglyphic (i.e., red-blue) 3D glasses in order to enjoy these videos to their fullest effect.  If you don't happen to have such glasses, you can get a free pair here, or you can even make your own.  [Another thing you can do is buy a DVD for an anaglyphic 3D film like Robert Rodriguez's Shark Boy and Lava Girl.  Such DVDs always come with a few pairs of anaglyphic 3D glasses.]
• Up above, Andrew Murchie and the team at Enhanced Dimensions have retrofit the trailer for the classic 50's sci-fi epic Forbidden Planet into anaglyphic 3D.  Take a look at it … preferably at a distance of about 3-5 feet.  It's really fun.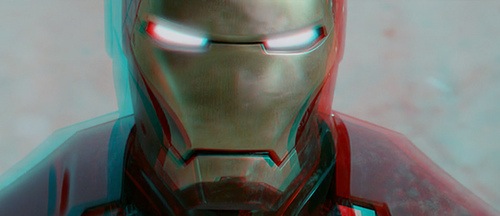 • Ever imagine what Iron Man 2 might look like in 3D?
A company called 3DGuy converted one of the flashier scenes from Iron Man 2 into anaglyphic 3D, and you can check that out here.
Make sure to watch the Iron Man 2 video in the highest resolution possible for the best possible 3D effect.
• You can also check out a campy, eccentric little short film called "Glory to the Conquerors of Space in 3D," from Atomic Cheesecake Productions.  "Glory" is about a retro-style female Soviet cosmonaut who has a strange series of pseudo-erotic encounters on a planet full of blue people.  [There's no graphic imagery.]  James Cameron might want to take a look at this one.  The film played in Slamdance's online competition in December.
[Editor's note: "Glory to the Conquerors of Space in 3D" features some mature situations.  Viewer discretion advised.]
3D can be a lot of fun, and we'll be keeping a close eye on 3D projects large and small here at LFM …
Posted on June 13th, 2010 at 1:36pm.