By Govindini Murty. It seems that the two major new releases this weekend are Knight and Day, starring Tom Cruise and Cameron Diaz, and Grown Ups, starring Adam Sandler, Chris Rock, and Salma Hayek.  So one has the choice this weekend of either watching a group of adults behave like overgrown children – in Baby Boomer Hollywood's ongoing infantilization of adulthood in Grown Ups - or one can watch Cruise and Diaz play adults stuck in a state of perpetual, toothy-grinned adolescence in Knight and Day.  At least adolescence is an advance in maturity over childhood, so I chose to review Knight and Day this weekend.
Knight and Day is a romantic action-comedy in which Cameron Diaz plays a simple, down to earth country girl from Wichita who gets unexpectedly whisked off on an international spy adventure with a dashing secret agent played by Tom Cruise.  The plot centers around a top-secret invention – a tiny battery that is a perpetually self-renewing source of energy  ("the first since the sun," as Cruise's character helpfully puts it).  Cruise must protect the battery from a host of nasty people who are out to get it – ranging from CIA operatives to Spanish arms dealers – while protecting/romancing Diaz at the same time.
This should have been a fun and sexy romp.  Cruise and Diaz are two attractive people who were good foils for each other in Vanilla Sky (however silly that movie may have been), and their reunion in this film should have been a sure thing.  Not only does Knight and Day feature two star leads, the film goes on a globe-hopping adventure from Kansas to Boston to the Azores to Austria to Spain, with many glamorous settings along the way.  A great deal of money is spent on hectic action scenes and on some great fashions (I love Cameron Diaz's tailored menswear-as-womenswear in the film – very Stella McCartney meets Giambattista Valli).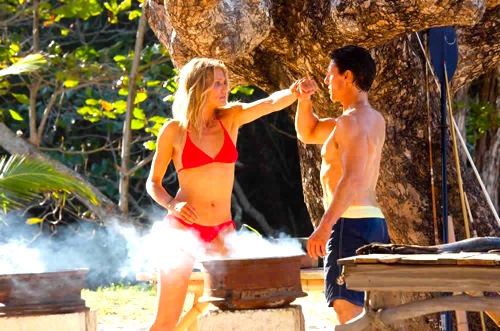 However, Knight and Day moves in strange fits and starts, and spends way too much time on drawn-out, archly ironic dialogue scenes between Cruise and Diaz that just fall flat.  There are violent action scenes that pop out of nowhere with car crashes and women being gratuitously punched and thousands of rounds of bullets flying through the air – interspersed with glacial scenes of comedy in which Diaz and Cruise flash toothy smiles at each other and trade desultory witticisms.  The overall effect is oppressive and cloying.
Knight and Day should have picked up the pace by making the comedy scenes as rapid-fire as the action scenes (think of how the jokes keep flying in His Girl Friday, or in the Bob Hope-Bing Crosby "Road" movies) – or the filmmakers should have junked the script altogether and filmed a Beckett play instead, if they wanted to go the post-modern-irony-with-long-awkward-pauses route.  As for romance, forget that – there is almost none in the film.  Knight and Day misses countless opportunities for romance between Diaz and Cruise, and all they ultimately share are a couple of kisses.  Violence replaces romance in the film.  Cruise and Diaz are on a romantic train ride going through the Austrian Alps, but instead of romance there's only a violent action scene.  Cruise and Diaz are in a romantic hotel in Salzburg, but instead of romance there's a violent action scene. One thinks by contrast of Hitchcock's infinitely better North By Northwest, in which the master had no trouble conjuring romance between Cary Grant and Eva Marie Saint on trains, in hotel rooms, and even on Mount Rushmore – without sacrificing a moment of adventure or suspense.  Indeed, in the best thrillers, the romance is an inextricable part of the adventure and suspense. Knight and Day is oblivious to all of this, and as a result it winds up being not enough of an action movie, not enough of a comedy, and certainly not enough of a romance to engage anyone for long.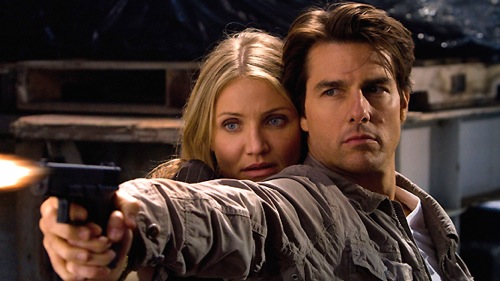 I would have forgiven all of that – because Knight and Day is really just mediocre, not awful – but I can't forgive the fact that once again the CIA are the villains in the film.  I know we're all supposed to be used to this by now because the CIA have been the villains in countless films, and the audience has become so numbed to this that nobody even cares anymore, but I for one am sick and tired of seeing the CIA demonized in movie after movie.  Between the Bourne films, the Mission Impossible films, The Good Shepherd, the upcoming Salt, and now Knight and Day, the CIA is portrayed in Hollywood's films as the most murderous, villainous, duplicitous and corrupt organization on the planet.  You would think that the CIA is worse than the KGB, Gestapo, Cosa Nostra, Bilderburgers, and Al Qaeda put together – and that's really just ludicrous.  And what does it do to our real intelligence efforts overseas when this kind of anti-American and anti-CIA propaganda is broadcast around the world?  Can Hollywood just find some new villains?
The bottom line is that Knight and Day squanders whatever modest entertainment capital it might have by featuring the agents of its home country – America – as the villains.  Such a tired plot device, redolent of '60s Baby Boomer rebellion, is just another symptom of the current film establishment's refusal to grow up.
(Knight and Day opens this week nationwide and is directed by James Mangold.  The film is rated PG-13 and is 1hour 50 minutes in length.)
Posted on June 26th, 2010 at 2:53am.