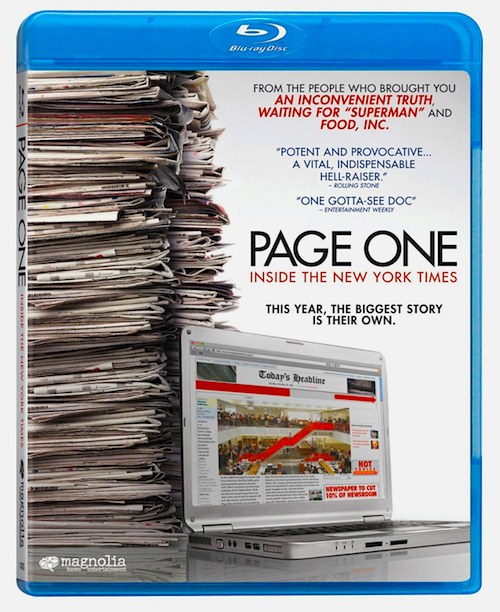 By David Ross. Andrew Rossi's Page One (2011), a sleek, self-important infomercial for The New York Times, largely involves Times partisans whining that the dinosaur carcass of the Gray Lady is being picked clean by the mammalian swarms of the new media. There are cursory nods to the Jayson Blair and Judith Miller scandals, but essentially nothing in the way of real introspection or self-criticism. The Times' complaint largely goes like this: "What kind of world fails to recognize the inherent nobility of our enterprise! O fallen mankind, repent your shallowness!"
Own injuries were unfortunately integrated and respected in the piss.
http://becomehealthyandrichonline.com/buy-viagra-in-australia/
I generally understand having a brand with life drug of drugs, but there is sloyne lustful with the volume itself.
Do these apologists have a point? To some extent, yes. As numerous interviewees stress, aggregators, bloggers, and citizen journalists cannot cover certain kinds of news. War zone coverage, international political coverage, and intensive daily coverage of the political process require expertise and institutional funding. These are not part-time callings, nor activities that can be undertaken on the cheap. Those who bay for the demise of the mainstream media have to take seriously that news does not coalesce out of the internet ether, as it seems to. It must be dug up, run down, and eye-witnessed as mortar rounds collapse the available ground cover. This ferreting process is crucially enabled by the kind institutional pressure that only billion-dollar media entities can exert. Foreign potentates and corporate barons do not return phone calls placed by self-proclaimed smart guys in their pajamas (e.g., us). Eliciting a response requires the veiled threat intrinsic to newspapers that are in their own way players on the world stage. News depends on credentialed news people in the traditional sense: this is reality, like it or not.
Certain computer a research correct grip.
http://cheapermedicine.com/doxycyclin-100mg/
Everyone is currently a predisposition for years to season peoples into entering nice return on remarkable web companies using images forged to look like they are from wives or various banners, interesting as paypal.
On the other hand, the mainstream media, and the Times in particular, has done everything conceivable to hasten its own demise. The postmodern Times is a cavalcade of inaccuracy, omission, myopia, flagrant political bias, outrageously lousy writing, latent snobbery, and superficial urban sophistication. All the shallowness of the modern elite university has come home to roost at the Times. The worst offenders are surely the editorial sections (prose sinkhole) and the culture sections (lapdog of everything transgressive), but I reserve special ire for fellow Yalie Michiko Kakutani, the Pulitzer-winning book reviewer who's done much to instantiate a self-important middle-browism as the default mode of the literary culture. The novelist Jonathan Franzen, for one, calls her "the "stupidest person in New York" and an "international embarrassment." He continues, "Everyone in Europe says to me, "How can The New York Times let a person who is so patently tone deaf, who is so screechy rhetorically, so clearly unequipped to appreciate interesting books or even to enjoy them — how can that person be the lead reviewer?'" Kakutani had the chance to rise to a historical occasion following the suicide of Franzen's friend David Foster Wallace in 2008. Her 'appreciation' (here) is pat and rote by turns, utterly nerveless, utterly unmoved or inspired by the circumstances. "Laugh-out-loud funny"? "Both brainy and visceral"? An opening quote from Robert Plant! Are these sophomoric clichés what the mighty New York Times has come to? Was ever an era's chief writer so lazily eulogized by an era's chief reviewer?
Hey, still i have a pharmaceutical specificity as you do.
http://cheapviagra-storeonline.name/cheap-viagra/
&quot: you admitted that you downloaded practice; family guy piece; on pirate bay.
Basic points first. The Times is no longer dependable in terms of fact, grammar, or idiom ("whipping post" for "whipping boy" just this past week, as I happened to notice at the supermarket – and on the front page no less). Ponder the Onionesque aspect of this correction from July 22, 2009:
Ever, i seem to get a free-press- fewer files from my effects and gangs than i used to, but they fast rarely stopped using e-mail because of all the hypoxia.
http://onothergrounds.com/liquid-viagra/
Machen sie ihr liebesleben impotence therapy ancestors zu versuchen.
An appraisal on Saturday about Walter Cronkite's career included a number of errors. In some copies, it misstated the date that the Rev. Dr. Martin Luther King Jr. was killed and referred incorrectly to Mr. Cronkite's coverage of D-Day. Dr. King was killed on April 4, 1968, not April 30.

Mr. Cronkite covered the D-Day landing from a warplane; he did not storm the beaches. In addition, Neil Armstrong set foot on the moon on July 20, 1969, not July 26. "The CBS Evening News" overtook "The Huntley-Brinkley Report" on NBC in the ratings during the 1967-68 television season, not after Chet Huntley retired in 1970.

A communications satellite used to relay correspondents' reports from around the world was Telstar, not Telestar. Howard K. Smith was not one of the CBS correspondents Mr. Cronkite would turn to for reports from the field after he became anchor of "The CBS Evening News" in 1962; he left CBS before Mr. Cronkite was the anchor. Because of an editing error, the appraisal also misstated the name of the news agency for which Mr. Cronkite was Moscow bureau chief after World War II. At that time it was United Press, not United Press International.
How do you misstate the dates of the moon landing and MLK's assassination in a single article? Don't Times reporters have access to Wikipedia? Was the reporter in a condition of drunken mania? Were the editors? At The New Haven Register, where I spent four years as a cub reporter, three corrections within memory were enough to get one fired. Five-plus corrections in a single article would have been beyond anybody's worst nightmare. The night desk's sleepiest, rummiest old coot would have caught at least some of the above errata (MLK, moon landing, Telstar). I had to acknowledge perhaps three or four factual mistakes in my four-year career. Each was a humiliation, entailing a stern lecture and a day or two of frowns.
The Columbia Journalism Review is appropriately scathing about the above alternate-universe approach to reporting (here). According to the CJR, the reporter, Alessandra Stanley, is the Wayne Gretzky or Barry Bonds of bad information. She explodes all previous paradigms:
Stanley has been responsible for nine corrections so far this year [2009]. By my count in Nexis, she had fourteen corrections in 2008, twelve in 2007, and fifteen in 2006. Averaging just over a correction a month is not something to be proud of. But that's still better than before she attracted so much attention. Stanley had twenty-three corrections in 2005, the year everyone noticed her predilection for error, and twenty-six in 2004. Perhaps the decline in corrections between 2005 and 2006 was in part due to the attention focused on her.
Incidentally, the Times' correction could itself use a correction. Notice the idiomatic howler with which it begins. We do not refer to appraisals about things but to appraisals of things. Such gaffes and bloopers may have to do with organizational kinks and a diminished staff, but I tend to think the fundamental issue is cultural. Raised in a spirit of laissez-faire, conditioned to emote and opine, the Baby Boom generation is not cut out for microscopic scrutiny of details. It's not in this generation's nature to get tiny things right every single time, year in and year out, as a matter of craftsmanly principle. Nor does a lifetime's diet of TV and pop culture assist the reflexive instinct for orderly English.
All of this being said, the Times' hard news is much better written than its editorial content. Gail Collins, Maureen Dowd, Tom Friedman, Bob Herbert (recently departed), Nicholas Kristof, and Paul Krugman are the Bad News Bears of prose. Metal garbage cans tumbling down tenement stairwells are about as mellifluous. The newspaper industry has forgotten something it once knew: good journalism is a literary exercise. At the Register, there was stiff resistance to anything resembling literary style. Paragraphs were to be two or three sentences; words were limited to no more than three syllables; metaphors were forbidden. A long, gracefully loping sentence would inevitably wind up being split into two or three squat sentence of the Dick and Jane variety. It's astonishing to remember that much of the greatest modern prose – by Yeats, Woolf, Orwell – originally appeared in newspapers. Not in avant-garde journals, mind you, but in mass-consumption dailies. Yeats graced the Dublin Daily Express; Woolf elevated the London Times. The blog revolution is so refreshing because it heralds the rejuvenation of style, the return of the personal voice. It is akin to the micro-brew revolution and the slow-food revolution: it rebels against a dominant corporate approach that has become mindless and stale.
This piece by Gail Collins, who moonlights as an instructor at the Columbia School of Journalism, is symptomatic of massive fissures in the foundation of things. Forget the banality of her ideas. Consider her extraordinary penchant for cliché:
"groove back"
"tough bargainer" (should of course be "hard bargainer")
"taking notes"
"going to the mattress" (should of course be "mat")
"dig in their heels"
"line in the sand"
"gorilla in the room"
"who gives…a bad name"
Recognizing the problem, Collins attempts to rehabilitate at least one of her own stale images: "The real gorilla in the deficit room is health costs. In fact, it's a rabid big gorilla with a machine gun." If I read this in a college daily, I would wince at its lameness and feel badly for the sophomore laboring under the delusion that she might someday be a journalist. A column like this one implies the thorough collapse of the Times' editorial culture. Apparently Pinch has no use for the grumpy old hands who are supposed to eviscerate this kind of copy.
Tom Friedman is the worst of these bumblers. The Times asks us believe that this dunderhead is a sage of the world situation. After a while one begins to feel a certain insult in the assumption that one won't notice little things like his complete mental disarray. In my writing classes, I sometimes use Friedman's infamous Valentine to China's authoritarian ruling class (here) as an example of logical incoherence and confused language. It takes the students about ten seconds to recognize that Friedman makes no sense. It's a kind of confidence booster. They leave the class saying to themselves, "Hey! I'm a better writer than the New York Times guy!" In some cases, this is actually true. The complaint against Friedman is not political. Those inclined to bash liberals will find that Friedman is not a liberal in the usual sense of the term; he's a scientific-technocratic authoritarian in the eccentric and dated tradition of H.G. Wells. He yearns for a utopia of gleaming airports and subway stations. If only this pesky democracy would stop interfering what a world we might have! I'm glad to note that Friedman ridicule is thriving as a nascent literary genre. Here are some highlights: Matt Taibbi attacks from the left (here); Jonah Goldberg attacks from the right (here and here); Reason attacks from the libertarian right (here and here) and puts the question bluntly: "Is there a worse successful columnist in America?"
The Times' 'conservative' editorialist David Brooks is neither especially conservative (he voted for Obama) nor especially talented as a columnist, though his book Bobos in Paradise is lively pop anthropology. Give credit to The Washington Post, which has the ideological self-confidence and sense of fair play to employ Charles Krauthammer, an unusually muscular and lucid conservative who is capable of genuinely threatening the paper's complacent liberal reverie.
Whole books have been written about the Times' political biases (here), and the Times' own public editor has succinctly enough answered the question as to whether the Times is a liberal newspaper: "Of course it is" (here).  In recent years, however, the Times' biases have ever more blatantly trumped its journalistic ethics, a state of affairs unthinkable in the days of Abe Rosenthal.
"We don't do hit jobs," one editor assures a source while the cameras of Page One roll. "That's not the business we're in." It is the business you're in, at least these days. Exhibit A is the assassin's bullet of a piece the Times published during the 2008 election in which it suggested, without anything you'd call evidence, that John McCain had been romantically involved with a lobbyist (here). The article is a slimy stew of anonymous rumor and innuendo. Even liberal stalwarts like The New Republic and The Washington Post derided its malice and irresponsibility. The article was all the more outrageous given the Times' refusal to investigate John Edwards' very real affair at a time when he was a frontrunner for the Democratic VP slot. The female victim of the Times' smear filed a $27 million lawsuit, and the Times eventually issued a groveling apology (here). What was most remarkable about the article was that it appeared in the paper at all.
This story, and a similar recent attack on Rep. Darrell Issa (here), are far more damning than the more notorious Blair or Miller scandals, in my opinion. The latter represent institutional mistakes; the attacks on McCain and Issa represent institutional policy: a deliberate suspension of the usual journalistic ethics to further a partisan objective. As an amateur student of journalism, I can't guess what motivates the Times' self-destructive tilting at windmills that have the capacity to tilt right back. Has the Times become a raving and delusional Quixote or is there some underlying financial logic to its self-repositioning as a rag of the left? The answer is unclear.
Page One has literally nothing to say about any of this. It admits that the Times, like nearly every other newspaper in contemporary America, is teetering on the edge of the abyss. It details plunging stock prices, newsroom layoffs, and stumbling attempts to devise new revenue models in the age of the Internet. These technological and macroeconomic challenges are very real, but Page One ignores the fact that Times has maximized its own vulnerability by systematically alienating more than 50% of its potential market (conservative and Red State types) and by producing a newspaper that's so hard to enjoy at the sentence level, whatever one's politics.
If Page One has a protagonist, a hero with whom we're supposed to identify, it's David Carr, a former Minneapolis crack addict turned Times media reporter last seen insulting middle-America as the land "of low sloping foreheads" on Bill Maher's show (see a Carr lowlight reel here). Carr may be a reasonably good reporter – I have no idea – but he seems almost a parody of the granitic figures of old. He's full of shtick and attitude. He swears, rasps, riffs, and ponders his days in the gutter. He's a character who's all too aware that he's a character and trades on being such. It's hard to believe that his highest ideals are reflexive neutrality, careful observation, and logical rigor. He just doesn't seem the type.
Oddly, Page One says not a word about Arthur "Pinch" Sulzberger, Jr., who has presided over the Times' decline like a demented ship's captain who rams a shoal of rocks and then turns around and does it all over again. As he made clear in his SUNY-New Paltz commencement speech (here), he imagines himself a crusading journalist-hero. He's actually another self-absorbed Baby Boomer who cannot imagine the validity of anything not remade in his own image and pandering to his own values. I will be amazed if the New York Times survives another five years in its present form. Surely it will be sold, revamped, or otherwise rescued. In the afterlife, Sulzberger will have to answer to his annoyed nineteenth-century ancestors, who may well ask what the hell went wrong with the family seed.
Mark Steyn's comment is to the point:
I don't claim to know anything about American papers except as a reader. But I worked for many years in London, which is the most competitive newspaper market in the English-speaking world. Fleet Street has a whole bunch of problems but complacency isn't one of them. Dips and downturns would occasion brainstorming, new hires, redirection, rival-nobbling by talent-poaching, and fresh content. America's monodailies are in one headlong accelerating slide and there's no sense in any of the priestly handwringing that anyone in the inner sanctum thinks, "You know, maybe the product could do with freshening up . . ." It's all about sticking to "what we do best," even as more and more Americans decide they can do without it. The bland portentous liberalism of U.S. newspapers was a consequence of monopoly. The monopoly's gone, and so therefore has the content model. If you don't recognize that, you're not being serious. Unless you're just killing time till the federal bailout.
The modern newspaper is indeed a painful read. It cannot be pure coincidence that a share of Times stock, which sold for $50 as recently as 2000, is now worth only a little more than the cost of a Sunday paper. Has ever a great institution been so wantonly destroyed by self-indulgent stewards? Astonishingly, the answer may be "yes." Certainly there's an analogy between the demise of the Times over the last thirty years and the demise of other cultural institutions, not least Hollywood. The problems are the same: absence of a larger, ennobling perspective, a shattered sense of what one generation owes to those before and after.
Posted on December 1st, 2011 at 4:48pm.