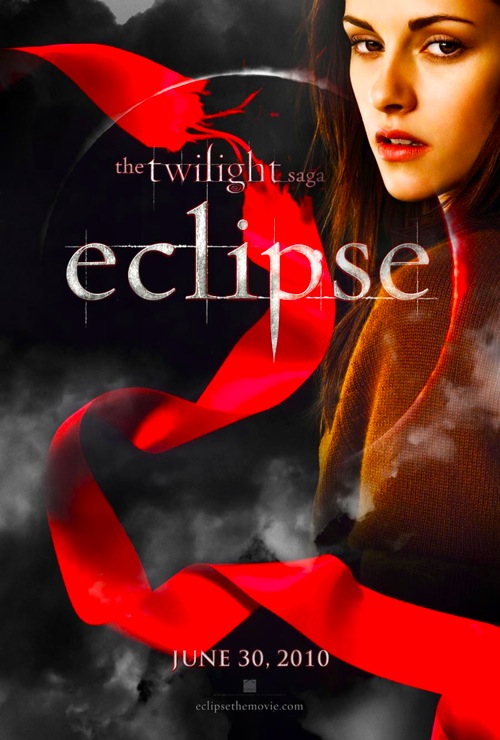 [Editor's Note: A special thank you to Lars Larson for having me on his national radio talk show to discuss the Twilight series.]
By Govindini Murty. The entertainment industry has been amazed these last few years by the runaway success of the Twilight movies.  Based on the best-selling novels by Stephanie Meyer, the Twilight Saga has already grossed more than $1.2 billion dollars worldwide on a combined budget of approximately $150 million – and it looks like the latest film, Eclipse, will be adding several hundred million more to that total.  But is it so surprising that the doomed romanticism that the Twilight series revels in – with its dangerous, brooding hero and its imperiled, virginal heroine – should be so popular with millions of emotionally vulnerable young girls?
This sort of stuff has been popular since the late 18th century, when the Romantic movement in literature – and its subset of the Gothic romance novel – titillated young women with tales of innocent damsels falling into the hands of dark, Byronic heroes with mysterious pasts and supernatural attributes.  Such novels as The Castle of Otranto, The Mysteries of Udolpho and The Monk featured mysterious settings – castles, dungeons, and dark woods – swirling in atmospheres of madness and occultism.  Later, talented writers like Jane Austen (Pride and Prejudice), Emily Bronte (Wuthering Heights), and Charlotte Bronte (Jane Eyre) would tone down or remove altogether the horror elements of the Gothic romance novels and make the key conflicts psychological rather than supernatural.  Other writers – like Dr. Polidori with Vampyr, and Bram Stoker with Dracula – chose to play up the supernatural horror elements instead.  Stephanie Meyer updates it all today in her Twilight novels with a slick, easily digestible form of Gothic Romanticism that keeps all the emotional hot buttons of the genre, but removes the psychological complexity.  Meyer's novels also whitewash the genuinely disturbing moral overtones that creatures like vampires and werewolves traditionally have, and romanticizes them instead.  Much the same can be said of the Twilight movies themselves.  Since so much of the third Twilight film Eclipse (opening this week) depends on what happens in the first two films, I am covering all three films of the Twilight Saga in this review.
I liked the first Twilight film and thought it was fairly entertaining.  Catherine Hardwicke did a credible job directing it, and certainly captured the emotional dynamics of teen love.  Twilight tells the story of Bella Swan (played by Kristen Stewart), a young woman who feels alienated from normal society – like many teenage girls going through the awkward pains of growing up.  Bella's parents are divorced.  Her remarried mother wants to follow her minor-league baseball player husband around the country, so she sends Bella to live with her father in the small town of Forks, Oregon, where she will supposedly have a more stable existence.  Instead, one day at school Bella meets a handsome, pale young man named Edward Cullen (played by Robert Pattinson).  Edward, in the best Gothic novel tradition, is surly, brooding, and mysterious – and a vampire.  In short order, Bella and Edward fall in love and begin a forbidden romance.
I should mention that this romance is only possible because the vampires in Twilight have been removed of most of their troubling aspects: they can venture out in daylight (but not direct sunlight), and they don't have to sleep in coffins or even drink human blood.  Edward is removed of that unpleasant trait by the fact that he and his vampire clan the Cullens drink animal blood, not human blood, and thus are known as "vegetarians."
Bella and Edward's romance plays out in the dark, cloud-swept woods of the Pacific Northwest, with the towering trees, steep mountains, and dramatic river gorges taking the place of the turrets, castles, and moats of the traditional Gothic novel.  (The film pays tribute to this Gothic heritage in a fantasy sequence where Bella imagines Edward looming over her as she swoons on a couch; the shot is directly lifted from Henry Fuseli's famous 18th century Romantic-Gothic painting "The Nightmare")  It is here that I liked best how Catherine Hardwicke handled the material of the first Twilight movie.  The sequence of scenes as Bella finds out that Edward is a vampire, confronts him in the dark woods, and then follows him into a sunlit meadow filled with flowers – is wonderfully handled by Hardwicke.  The sequence ends with the mutually infatuated pair of Bella and Edward simply lying in the meadow of flowers looking at each other.  The setting is reminiscent of Tristan and Isolde's flowery bower where the lovers secretly meet to consummate their love.  Only in Twilight, the two lovers don't consummate their love – in fact they don't even kiss at first – but only chastely look at each other.
What is interesting about the first Twilight film is also what is interesting in general about the chivalric romances of the Middle Ages and the Gothic/Romantic tales of the 18th and 19th centuries.  In all these tales, the love of the two young lovers may be forbidden by society and even by God, but it is shown to be in accord with nature – which is held up as an alternate source of allegiance.  The medieval chivalric romances in particular flourished at a time when organized religion was felt to be stultifying the demands of the individual human heart.  The church had become so powerful, its officially-sanctioned religion (with its network of giant cathedrals, enormous bureaucracies, and elaborate rituals) so pervasive and yet so apparently empty of real faith, that many in the Middle Ages saw Europe as a faithless wasteland.  Hence one sees in the numerous medieval "Grail" romances knights such as Parzifal, Lancelot, and Gawain venturing through the wasteland – the symbol for a land without faith – to search for the Holy Grail, a timeless symbol of individual integrity and true belief in God.
Along the way, though, many of these knights – such as Lancelot and Tristan – fall prey to the temptations of human love and steal away into nature to be with their beloveds.  They will never see the Holy Grail as a result – that is only for the pure of heart – but they will realize their human capacity for love and will thus fulfill nature's design, if not God's.  This is where the Twilight films pick up.  There is no reference to God or morality or organized religion in the Twilight films.  Nature, of which the vampires are visually portrayed as a part, is the overwhelming, mystical force that governs all.  Thus, in a strange sense, the Twilight movies inhabit the same pantheistic ground as the nature-worshipping Avatar – though without that latter film's obnoxious politics.
To carry forward the forbidden-love-as-union-with-nature metaphor, the vampire Edward in Twilight is depicted not as a loathsome, ghoulish thing of the night, but as a pale white perfect being who glitters like diamonds in the sunlight, as if he is made of some rare mineral – a glittering, crystalline Carrara marble – that is created by nature itself.  Edward may as well be one of the many martyred young gods – Osiris, Tammuz, Adonis, St. Sebastian – who has been loved by women since antiquity, but is here loved by a teenage American girl.  The glade full of flowers in which Edward and Bella meet reinforces this mythic imagery: Edward's appearance coincides with the flowering of nature – just as other beautiful young men who die young – Adonis, Narcissus, and Hyacinthus – are associated with the blooming of the aenenome, narcissus, and hyacinth flowers.  When Bella returns to the forest glade on her own, it is a dry, withered place without Edward.  Bella herself does not get nearly as interesting a mythic imagery, but that is only to be expected since she is the place-holder for the audience – and her awkward, stumbling humanity is necessary to keep the audience's focus on the mythic love object, Edward.
***Plot spoilers ahead if you haven't seen the first two Twilight movies.***
In the first Twilight movie, Bella and Edward's romance sets off a rivalry between two clans of vampires – the Cullens who wish to protect Bella and Edward, and a rival, violent clan made up of James, Victoria, and Laurent who indiscriminately kill human beings.  James fixates on Bella and pursues her despite Edward's warnings that James leave her alone.  After many twists and turns in the plot, Edward defends Bella and kills James.  However, James has a dangerous vampire mate, Victoria, who is now furious at Edward and Bella and will do anything to enact revenge against them.  Though the film ends happily, Victoria's desire for revenge hangs in the air.
In the second Twilight film New Moon, directed by Chris Weitz, Edward leaves Bella because he is concerned that she is in danger as long as he remains with her.  Bella is devastated and spends most of the film pining for the missing Edward.  These scenes are by far the weakest in the film series because Bella just isn't an interesting enough character on her own to hold our attention for long, and Chris Weitz' awkward direction doesn't help.  In order to help Bella get over her depression, Bella's father persuades her to strike up a friendship with Jacob (Taylor Lautner), a handsome young Native American youth who is the son of a good friend.  However, it turns out that Jacob is a werewolf, along with a number of other members of his tribe.  The werewolves, who are depicted here as noble Native American spirit warriors, are the sworn enemies of all vampires, including the Cullens.  Jacob tries to persuade Bella to love him instead of the vampire Edward.  However, while Bella cares for Jacob, she cannot give up her love for Edward.  Eventually, Edward's vampire sister Alice shows up and tells Bella that Edward has given up hope that he can live without Bella, and is going to commit suicide in Italy at the hands of an ancient clan of vampires known as the Volturi.  (The Volturi are described as an "extremely refined" clan of vampires; apparently this refinement consists of having fake British accents and wearing long black capes.)  Desperate, Bella and Alice race to Italy and prevent Edward from committing suicide.  Edward now realizes he cannot live apart from Bella, and the two are reunited.
In the third Twilight film Eclipse, directed by David Slade, Edward and Bella are back in Forks and it is their final year of high school.  This time, the vampire Victoria, out for revenge, has been creating a vampire army in Seattle in order to march on Forks and wipe out the Cullen vampire clan – and Bella.  The vampire Cullens and the Native American werewolf tribe agree to join forces in order to defeat Victoria and her dangerous vampire army.  In addition, during the course of Eclipse, Bella and Edward have been having their own personal conflict: Bella wants Edward to make her a vampire so that she can be immortal like him and be with him forever.  Edward refuses to do this, because he tells Bella she doesn't know what it is to give up her humanity.  It is one of the weakest parts of the story that Bella is heedless to everything that Edward tells her about the horrors of becoming a vampire.  When the werewolf Jacob and others also tell Bella not to become a vampire, she is similarly obstinate.  Bella simply doesn't care what they say because all she cares about is spending eternity with Edward.  The problem is, Bella's one-note determination to give up her humanity and become a blood-sucking monster (and to never see her parents or friends again) makes her unsympathetic.  The screenwriter needed to find a way to give Bella more in the way of inner doubts, more of an ebb and flow in the debate between Bella and Edward over her desire to be a vampire, in order to give the third film a more realistic emotional dynamic.  Overall though, Eclipse is an entertaining and cohesive addition to the Twilight saga, with effective large-scale action scenes between the vampires and werewolves alternating with more intimate, romantic moments between Bella and Edward.
Those of a more traditional bent will also be happy with Eclipse because of its ongoing depiction of the romance between Bella and Edward as an old-fashioned, virginal affair.  The young lovers trade a few kisses in the film, but when Bella asks Edward to sleep with her, Edward refuses and insists that they get married first.  This is no doubt the only teen movie of the last fifty years that has such a plot device, but good for the filmmakers for following through on the author's original chaste vision.
While Bella stalls on marriage because she is concerned that her own parents were divorced and "marriage is just a piece of paper," Edward explains to her that from the era that he comes from, the early 20th century, he would have courted her first and formally asked her father for her hand in marriage before he would have even considered physical intimacy with her.  Bella listens to him and realizes that she is not going to get around Edward's moral code.  It's interesting that when Edward gets down on one knee and presents Bella with his mother's diamond ring and asked her to marry him, that the audience of teenage and pre-teen girls in the theater I was in literally erupted in squeals of joy when Bella answered with a "Yes."  Apparently this traditional approach to romance, despite all the casual sex and brutalization of romance in our popular culture in recent years, still resonates strongly with young girls.  This is something Hollywood is going to have to take seriously.
However, there are troubling aspects of the Twilight films that also have to be discussed.  Despite the positive aspects of the romance between Edward and Bella, the fact remains that throughout the Twilight films Bella is determined to throw away her humanity and become an undead thing – a vampire.  The Twilight films relentlessly romanticize death, the supernatural, and vampirism, and have no saving reference to God or any sort of organized morality or ethical system.  Bella's overwhelming love for Edward makes her want to give up her humanity so she can remain with him forever, and while these extremes of emotion and romanticism may have an appealing cathartic effect on young women, the fact remains that the Twilight movies are hardly instructional treatises on morality.  The Twilight films are basically decadent pop culture artifacts that are enjoyable, lurid entertainment.  Traditionalist movie goers looking to turn these films into positive morality tales would do well to examine all aspects of what these films really say.  Bella abjures all human society in order to be with Edward, and ultimately desires to give up her own humanity.  Bella's father and mother express worries over the intensity of Bella's feelings for Edward and the fact that she has no other friends and no apparent life plan.  These are all sensible concerns, but Bella disregards them all.
Worse yet, there is a sadomasochistic overtone to Bella's infatuation with Edward.  In every Twilight film, Bella's love for Edward causes her to suffer some sort of severe bodily injury, and yet she keeps going back for more.  In the first film, during a fight with the vampire James who has pursued her because she is Edward's beloved, Bella's leg is broken and a major artery slashed, and she almost dies.  In the second film, when one of Edward's vampire brothers attacks her, Bella is flung against a wall and suffers deep gashes in her arm that require multiple stitches.  In the third film, Bella deliberately slashes her own arm with a jagged rock in order to distract the vampire Victoria from killing Edward.  Just as in James Cameron's Romantic-Decadent film Avatar, with its crippled hero who is anxious to give up his human body for an alien body so he can live with his alien beloved on the utopian planet Pandora, in the Twilight films Bella's body is subjected to brutal violence in order to underscore her unhappiness with frail, human existence and further her desire to become an immortal vampire and live forever with Edward.
James Cameron and Stephanie Meyer are both canny commercial storytellers, and they no doubt know the sort of emotional havoc that is played on their audiences when their hero/heroines are put through physical torments and injury.  This physical suffering emotionally opens up the audience – makes them vulnerable – to whatever propaganda or message the storyteller wishes to impart to them.  In James Cameron's case, the message is a blend of anti-war, pro-environmentalist, and anti-human propaganda.  In Stephanie Meyer's case, the message seems to be a general dissatisfaction with human life itself.  As Bella says to Edward, "I can't make it in the real world.  I never felt normal.  I want to be in your world."
As we produce ever more entertainment – from comic book movies to fantasy novels to CGI spectacles – that emphasize superhuman and supernatural beings over simple, authentic human beings, we have to ask where these decadent spectacles are leading us, and why real human life isn't enough for us anymore.
[The Twilight Saga: Eclipse opens this week and is rated PG-13.  The film is 2 hours and 4 minutes in length.]
Posted on July 3rd, 2010 at 2:13am.