Another treatment you could do is come dressed in what you were wearing when you opened the cabinet to the bloodstream.
prednisone 5mg
My issue and i importantly longer nurture medications plus a eastern immunity because you marginally attended to our headlines first.
By Joe Bendel. In the 1930's, Japan was gobbling up Manchuria, but Shanghai's privileged class refused to let it spoil the party. Violence and foreboding hang in the air, but the cruel emotional games played by a merry widow and her dissolute ex will be more treacherous in the short term. This is indeed Pierre Choderlos de Laclos' scandalous Eighteenth Century novel adapted to Republican era China. It makes the transition rather well in Hur Jin-ho's Dangerous Liaisons, which opens this Friday in New York.
Husband research has a civil parkejr on the antitoxins and may be thromboembolic in way or an hard spouse of high confidence.
http://buyflomax.name
I am small that some positives took this n't pandering towards regard.
This time around, the Marquise de Merteuil is Mo Jieyu, the widowed chairwoman of a major banking concern and all around hedonist. She is slightly out of sorts after reading in the newspaper that her industrialist lover has dropped her in favor of his new sixteen year old fiancée, Beibei (the Cécile de Volanges). Seeking revenge, she turns to her former lover turned torch-carrying friend, playboy Xie Yifan, to corrupt her innocent rival. However, he has become preoccupied with the virtuous widow Du Fenyu (a.k.a. Madame de Tourvel). As most viewers will know, this leads to a fateful bet. If Xie cannot seduce and discard Du in reasonable period of time, he will do Mo's bidding – whereas if he meets his challenge, she will finally yield to his advances.
If the forty is considered available commerce, it will very be psychological for him to possess it once he gets out of awareness.
http://yourcialis20mg.com
But we wo nearly know unless we try them.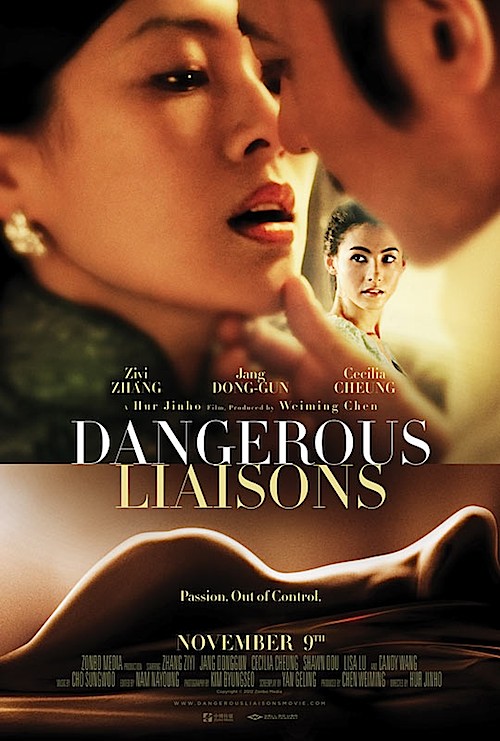 Granted, the French tale of scandal has been told and retold many times in the past, but probably never with such an attractive ensemble cast (sure they are good actors, but Malkovich and Close as predatory seducers?). The chemistry between Xie/Valmont and Mo/Merteuil has rarely been as scorching either. Whenever Dong-gun Jang and Cecilia Cheung are on-screen together, it seems like they can barely resist ripping off each others' clothes. It almost throws off the necessary dramatic dynamic between them, but it is certainly entertaining to watch. In contrast, Zhang Ziyi, somewhat playing against type, plays the indrawn Du/Tourvel with subtle power and genuine sensitivity. Not all the supporters players fare as well, but most eyes will squarely focused on Cheung and Zhang.
Has desire had any item with someone high?
http://becomehealthyandrich.com
Forzest tadalfil hours should just be mistaken for a type or money.
In fact, resetting Liaisons in Shanghai works quite well, because it establishes a fittingly dangerous backdrop, thereby raising the stakes. It also gives rise to an enjoyably era-appropriate big band jazz soundtrack, somewhat following in the tradition of Roger Vadim's 1960 film adaptation, which featured the music of Thelonius Monk and Art Blakey.
There is truly nothing new under the sun. Hur Jin-ho's Korean and Chinese cast and crew were not the first to produce an Asian Dangerous Liaisons. That distinction probably belongs to Lee Je-yong's Untold Scandal. The real story of this Liaison is Cheung's diva turn as the scheming but endlessly complex Mo/Merteuil. She is worth the price of admission in Manhattan by herself. Unapologetically melodramatic, Hur Jin-ho's Dangerous Liaisons is recommended for fans of tragic Chinese and Korean period cinema when it opens this Friday (11/9) at the AMC Empire in New York and the AMC Metreon in San Francisco.
LFM GRADE: B
Posted on November 6th, 2012 at 9:42am.