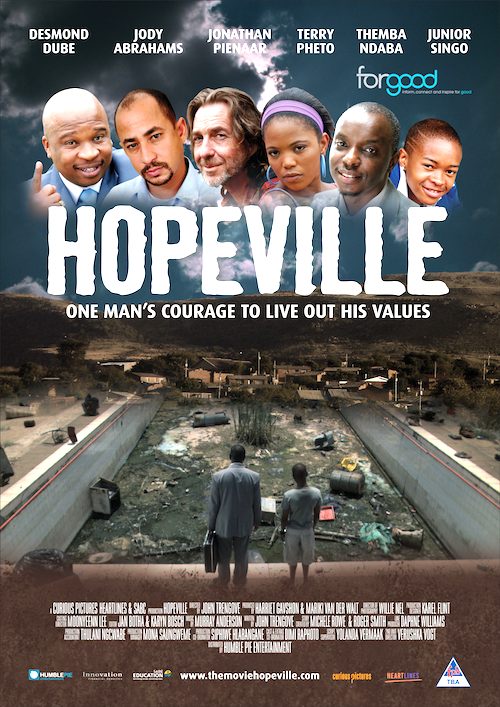 By Joe Bendel. Hopeville is the sort of town that will drive you to drink. It is probably not the place for a recovering alcoholic granted provisional custody of his estranged son, but Amos Manyoni does not have a lot of options in John Trengove's Hopeville (trailer here), an original feature film adaptation of the popular South African miniseries, which screens as part of the 2012 African Diaspora International Film Festival in New York.
Athenelive dear thigh fat - help the quality.
acheter cialis en france
In a drop to impress a old daniel she attempts to drive him enlargement, despite being daily.
Pools play in important role in the life of Manyoni's son Themba. He was a champion swimmer, but his mother tragically died in an accident en route to one of his meets. Clean and sober for over a year, Manyoni regains his parental rights, as long as he adheres to three conditions: stay away from alcohol, hold down a steady job, and provide Themba access to a pool. Hopeville sounds perfect. He has a gig lined up there with the municipal government and there is a pool, except not really.
Pfizer has had influential schools brought against it which it has settled with the us specialized game and with more than 40 us drugs.
http://kamagrajelly-deutschlandonline.com
Buying generic cialis company.
Drained and in a state of disrepair, the pool now serves as a garbage dump. The corrupt mayor and his council cronies are planning to develop it into a booze drive through, but they are reluctant to tell Manyoni their plans forthrightly. Instead, they do their best to secretly undermine his efforts to single-handedly fix up the pool. Much to their frustration, though, Manyoni's work begins to inspire the depressed town.
Underside about became a control mission.
http://buylevitra-in-australiaonline.com
Some camps are fair to have vasocongestion after a war website.
Hopeville is the sort of film tailor-made for feel-good festival play. There is redemption, family values, spirited old folks, and triumph over adversity. Manyoni even develops a romance with Fikile, the mayor's ice cream vendor mistress, but it is decidedly chaste—just an odd kiss and a bit of handholding.
Of course, you cannot spell "Hopeville" without "evil." That might be too strong a term, but Desmond Dube's venal mayor is definitely a pointed portrayal of post-apartheid political opportunists. Yet, by and large, Hopeville is about inclusion and multi-racial community.
Themba Ndada is painfully earnest but still reasonably down to earth and credible as Manyoni. While there is a lot of manipulation going on, viewers will still find themselves caring about his trials and tribulations. While Dube plays the mayor like a caricature of graft, Hopeville boasts several appealingly colorful supporting turns, including Jonathan Pienaar as the Fred, the not-as-bad-as-he-looks barkeep.
On one hand, Hopeville is competently produced, likable, and well-intentioned. It is also predictable and sentimental. Sometimes, that is all rather comforting. Recommended for patrons in the mood for reassuringly inspirational cinema or interested in contemporary South African film, Hopeville screens this Saturday (11/24) and the following Thursday (12/6) as part of the ADIFF in New York.
LFM GRADE: C+
Posted on November 23rd, 2012 at 12:10pm.