[Editor's Note: those of us here at LFM love the 'Cold War lifestyle' - the spies, the bikinis, the shiny orbiting satellites and dry martinis.  We return today to an occasional series from LFM contributor Steve Greaves, "Loving the Cold War Lifestyle," that takes us back to that altogether tastier, less politically-correct era.]
By Steve Greaves.
"What about Ruth?"
"Ruth who?"
"Ruth, your wife."
"Oh."
This recurring joke and banter like it would probably win a regular Joe today a new level of intimacy with the old rolling pin – that is, if wives still packed rolling pins. Welcome to the world of 1967's A Guide for the Married Man (see the trailer here), a sharp-looking, box-office-winning and cleverly-written comedy that hasn't been on DVD for long and might be easy to overlook. And overlooking it would be a shame.
This vintage sex farce finds Walter Matthau playing Paul, a suburban Every Husband of the nuclear era. An investment counselor by day, the man who has it all is nonetheless lacking a certain something come night: namely, variety. Gorgeous Inger Stevens is a dream wife, which makes Matthau's eventual wanderlust that much more poignant (and inane). Mid 60's superstar Robert Morse is perfect as Matthau's lascivious pal Ed, who steps up to coach his new protege on the finer points of straying "the right way," i.e., so as not to get caught and to otherwise protect the feelings of one's betrothed. This simple "educational" device sets up a romp that allows for plenty of hilarious sequences between the two, but also for a parade of cameos wherein great comedy stars of the era enact episodes of other chaps' successes or failures, recounted by Morse for illustrative purposes.  I can't think of another film like this one in terms of the format, though one could make a case that it relates to period English comedies like Bedazzled, or even confessionals like Alfie that share the device of ongoing "how to" tutorials.
There are many cheeky bits to this film.  Examples range from Lucille Ball and Art Carney's "The Bust Up Scene" – wherein Carney intentionally provokes a fight over "chicken and insults" in order to storm away and stay out for the night; to Sid Caesar, who not wanting to be spotted in a booth with some arm candy at Romanoff's restaurant (note the period detail of flaming kabobs in this scene) quickly ups and joins a solo male diner, and eats his side salad while the guy looks on dumbstruck until the coast is clear. Perhaps the zaniest sequence features Carl Reiner as a Hollywood leading man who treks literally around the world to rendezvous on the hush-hush with a starlet he's just met. The music-fueled montage crackles along as he and his prey separately traverse every kind of terrain, via as many vehicles as possible, in order to reach their private layover in an Alpine ski lodge. This all to remind Paul, and the viewer, that "there is no such thing as [being] too careful."  Other choice cameos include: Jack Benny, Phil Silvers, Terry Thomas and Jayne Mansfield. Given the huge variety of mostly great material throughout this film, it is worth noting that the central drama carried home by Matthau remains engaging and heartfelt in a way that most comedies today can't hope to duplicate – and this is no small feat, given the mercurial structure of the story. Typically luggage-faced Matthau is rather dashing, funny and sympathetic even as he tries to free his inner rogue. If you've never seen him approach suavity or sexiness (as most in the Grumpy Old Men era have not) this is the film to see, Old Ironsides aftershave and all.
A surprise awaits those who love classic Hollywood as the directing credit goes to none other than Gene Kelly. Kelly directed twelve films, mostly his own iconic musicals including On the Town and Singin' In The Rain, both of which were co-directed by Stanley Donen. It's hard to know exactly where Kelly's influence is obvious in A Guide For The Married Man, but I would venture that there is a sophistication and lightness to the pacing, a buoyancy that makes this film feel not unlike one of his colorful musicals. The film is an extremely music-driven experience on the whole. In fact, the reason I first discovered this film was by way of the excellent score and soundtrack which was reassembled from the film masters and released about a decade ago as one of Film Score Monthly's exclusive "Silver Age Classics."  The score, and it is wall-to-wall, comes courtesy of the great John Williams – who lent his huge talents to many notable shows and films in the Mid-60's (as "Johnny Williams") well before The Force was with him, or before he was making Jaws' Bruce the Rusting Shark look terrifying. This is comedy scoring at its finest, expertly written and orchestrated, up front but always supportive, and did I mention groovy for those who love snappy mid-60's fare? The Turtles perform the wordy theme song from a time when pop was barely starting to catch whiff of what was rising from the hippie culture. Woodstock was just around the corner, but it's hard to tell from the manicured styling and clean-cut nature of this and most films of the period. In fact, one might consider this movie a perfect shard from the very last days pre-Summer of Love – and the full influence of the psychedelia and social upheaval it portended.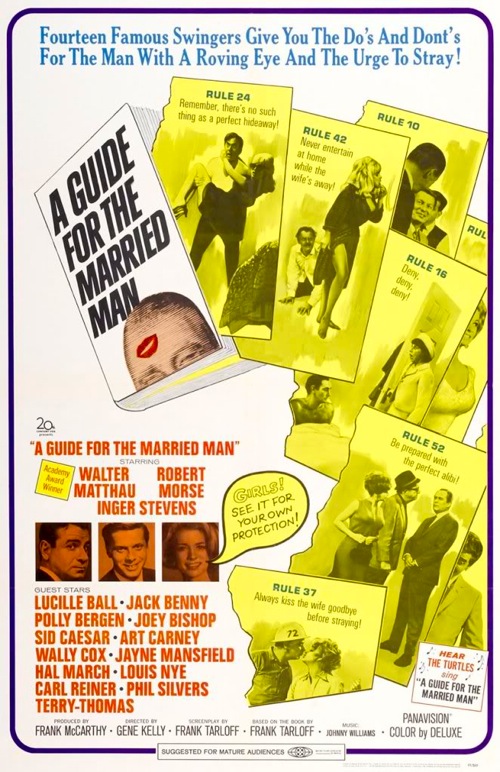 That said, A Guide For The Married Man is in many ways edgier even than most films that would follow it, in the sense that it is dealing not just with questionable behavior but with truly taboo ideas. One can see how this was seen as pushing boundaries at the time. Racy dancing in a beat club (featuring "negroes," no less!), passing glances at gay activity, lots of curvy and buxom performances and – above all – the open discourse on infidelity itself feel a little naughty even now. It makes for an interesting and unexpected experience to take in within the context of a lighthearted and good-natured affair.  I have to admit I love this film for its period look, music, colorful dialogue and its retro-hip, Hefneresque take on bachelor life. It's damn funny – and it's the kind of Mad Magazine humor I miss as an adult, living within the stiff confines of the modern PC 'nausoleum' wherein everyone takes themselves too seriously. The cocktail party scene where the men and women conspire within their own group discussions about philandering is as frank as it is side-splitting. It feels a bit like peering into the lighthearted genesis of what would later become a sour-flavored battle of the sexes within just a few years, as these relatively private topics became publicly politicized.
As an aside, the casting of Robert Morse as top boss Bertram Cooper on Mad Men appears that much more inspired when you look at the visual influence of this and other Morse-driven films of the 60's (especially How To Succeed In Business Without Really Trying, released the very same year) that inspire much of the office and home aesthetics of Mad Men itself half a century later. In the same unapologetic manner as the successful new series, A Guide For The Married Man reminds us that the oft-thought "stuffy" postwar era wasn't without its own brand of edge, as is sometimes held in post-Easy Rider critiques of American cinema.
I highly recommend A Guide For The Married Man as a slice of mid-century, tongue-in-cheek comedic sustenance to watch and watch again. Make it a guys' night. Or a couples night if you're brave. Oh, and for you bra-burning types, all ends well in the film so don't get your hair in a twist, sisters.
Posted on June 27th, 2010 at 1:42pm.