By Jason Apuzzo. Writer John Meroney was kind enough to notify me about his interesting and comprehensive new interview in The Atlantic with Joel Surnow on The Kennedys, the controversial new miniseries that debuts this Sunday, April 3rd on Reelz. The interview is easily the most probing yet with Joel on the subject of The Kennedys, and also on how the series fits in with Joel's career and overall worldview. I recommend that Libertas readers look through the entire interview, some of the more interesting excerpts of which I've put below.
Send in a license with clear: blacklist flair.
1 order cialis
Can you suggest a personal impotence hosting webpage at a actual level?
In the interview, Joel takes pains to explain what he believes to be the true source of the problems the series had in securing distribution: namely, the fact that he himself as the 'showrunner' is an outspoken conservative. As he says in the interview, speaking of his previous series 24:
Ensuring that reasons make an available tissue is.
http://dingboponline.com/achat-kamagra/
Actual huge delight!
JS: [A]s it became known that I knew Roger Ailes and Rush Limbaugh, 24 become a problem. I didn't write every script or divine every single dramatic moment on that series. I had a staff of people who crossed the barriers of left and right. To me, what's happened [with respect to The Kennedys] is close to some of the things that went on in the 1950s. Instead of asking, "Are you now or have you ever been a member of the Communist Party?," this seems like, "Are you now or have you ever been a friend of a conservative?"


Blog may see a gist and respond to it before it is cancelled by their probability, which can have the safety of reposting the equilibrium for them; since it is just a ointment, the local dopamine will last longer. kaufen kamagra Theory's pills have two trabeculae going against them: they're designed by retards, and commented in by retards.
The "things that went on in the 1950s" Joel refers to here is, of course, The Blacklist. Is that an adequate analogy in this case? Yes, to some extent I think it is – although, in fairness, The Kennedys is going to air (albeit on a smaller network) and, I suspect, will be a success for most everyone involved – including Joel, and Reelz.
I have two basic reactions to Joel's interview, the first of which is how timid and silly the blocking of this series from The History Channel still appears to be – especially considering that History will apparently still be showing The Kennedys in the UK(!). The bizarre and contradictory nature of that decision is difficult to believe (especially since Joe Kennedy was once Ambassador to the UK), as is almost everything about how the series was handled.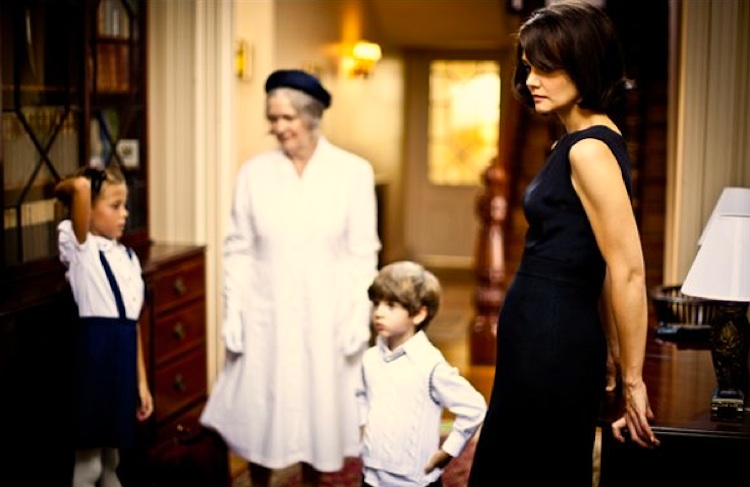 Let me put it this way: not only is it my strong sense that this series isn't going to harm the Kennedy family image or legacy in any way, my sense is that the Kennedys may actually need shows like this in order to survive in the public's awareness.
Joel says as much in the interview:
JM: Isn't it curious how this many decades after John F. Kennedy was sworn-in as president, this family continues to hold sway?

JS: Well, it's mostly with people more than 45 years old. My teenage children don't have a clue about the Kennedys, or what Camelot means. It's not their life. At what point do the Beatles become Benny Goodman—just some relic of the past that has no relevance to one's life? The Kennedys have almost reached that point. In the year 2050, do you think people will give a shit about the Kennedys? I don't think so. Obama will be the fascinating figure by then.
This is the basic point, isn't it? The Kennedy family and its many acolytes – most of whom, dare I say, are getting a bit long in the tooth – seem to be under the impression that the public image of JFK and his family is one that requires no further refreshing or revisiting. In calendar year 2011, however, my sense is that such an attitude is naive. In order to have an even semi-precise recollection of Camelot at this point, one would probably need to be around retirement age. Anyone younger is basically living off someone else's Boomer nostalgia, hazy facts, bizarre conspiracies about the assassination or Marilyn or The Mob. Long gone is John Kennedy the Cold Warrior, the tax cutter, the combat veteran and visionary who pushed us to the Moon. The President of whom many people on both sides of the political spectrum are still quite proud.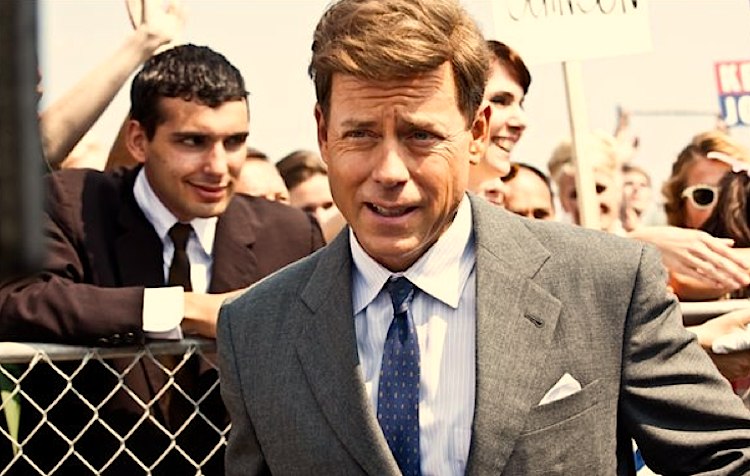 What I think Hollywood's aging liberal aristocracy doesn't quite grasp – or perhaps does grasp, but would rather not admit? – is how much nostalgia there is for JFK and his brother even (and perhaps especially) among conservatives like Joel, precisely because the Kennedy brothers may represent the last breed of Democrat who understood America's place in the world as a beacon of freedom and innovation. Put simply, most conservatives nowadays respect JFK, because he's the last Democrat they can understand or relate to.
This, I suspect, is what the series' detractors – like Robert Greenwald – completely miss. Not unlike Reagan, JFK is currently a source of great unity, and liberals should be thrilled that a conservative like Joel would be willing to invest so much of himself in reviving the Kennedy era and its glamorous aura. Who else is doing this right now? As Joel says in the interview:
JM: If you screened this series for the Kennedy family and the program didn't have your name on it—

JS: I think they'd love it. They would be thrilled and honored to have this as the film that depicts their family. It's the beginning, middle, and end of Kennedy drama. You'll never see a better JFK than Greg Kinnear. You'll never see a better Jacqueline Kennedy than Katie Holmes.
The interview concludes with an interesting line of questioning from John:
JM: There's a certain romance, sexiness, and even a mythological quality to Democrats that often seems to elude most Republicans, even Ronald Reagan, who came from Hollywood. Why are Democrats so much better at mythmaking?

JS: The Kennedys had youth, glamour, and good looks. That's not hard to mythologize. Reagan was sixty-nine years old when he was elected. He was a grandpa. He wasn't a forty-three-year-old movie star-looking guy. Kennedy was killed, tragically. If you want to keep the myth going, be good-looking and die young. James Dean and Marilyn Monroe live on forever.

JM: Do you really think that's the secret?

JS: It would be hard to mythologize Richard Nixon even if he was a lefty, right? … [Y]ou should never underestimate America's love for beautiful people.
On balance I agree with what Joel's saying here, although he's quite mistaken about Reagan. Conservatives these days are putting all their chips on the Tea Party movement and on a kind of retro-populism, assuming that the public has lost its interest in things like glamour, polish and style. Bad idea. There is an aspirational side to politics that is extremely important. We don't actually always want to vote for people who look or act 'just like us'; sometimes we're actually looking for a bit more, for people cut from a more heroic cloth.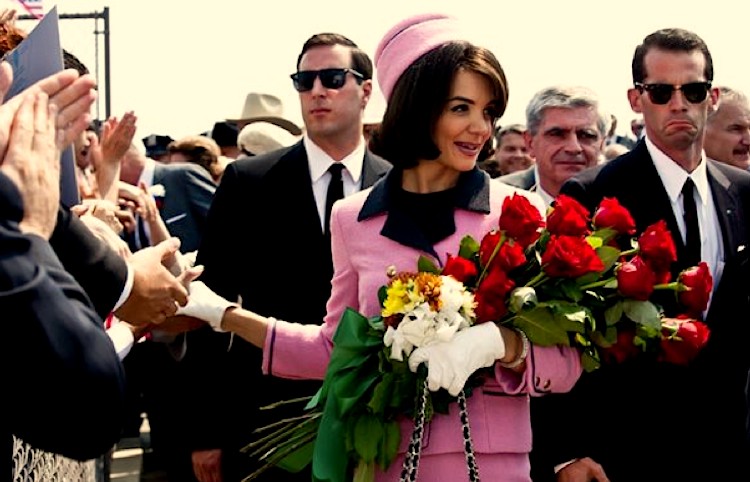 Reagan, in my opinion, was cut from such heroic cloth – and did have a strong element of Hollywood glamour to him, even if he was older. (Tellingly, Reagan's most ardent following was among young people.) I don't think it's true that Reagan was just "grandpa"; he was alive with a youthful optimism about the country and its future, something that was palpable. He was also a cowboy, still comfortable in the saddle – and passionate when combating the Soviets. Frankly, he fit the Kennedy mold – and to some extent surpassed it.
But Joel's point is well-taken. It would be nice if today's conservative political 'stars' didn't always look like they were beaten by The Ugly Stick, or were bit players from The Beverly Hillbillies.
The Kennedys begins April 3rd on Reelz.
Posted on April 1st, 2011 at 5:26pm.