By David Ross. By pure chance, I recently happened upon Michael Atkinson's discussion of David Lynch's Inland Empire (2006). I was struck by Atkinson's antic way with words and by his nimble intelligence, so much so that I checked for Atkinson on Wikipedia. He's made a name for himself as a novelist and poet, as it turns out. I further discovered that he has a blog with much the same air of acuity. Among other things, Atkinson offers his list of the fifty top films of the decade (in order no less – no wimpy relativism there).
Atkinson is right to observe that the organizing principle of Inland Empire is not psychological, in this respect differing from Bergman's Persona (1966) and most other experiments in pure cinema.  But he seems to imply that the film's dissociative chaos has no unifying principle or organizing logic, and that the search for codes and readings is a kind of category mistake. Atkinson comes closest to the mark when he observes that Inland Empire is purely a movie and nothing else. It strikes me that the film's organizing principle is cinematic possibility, and that we witness, in essence, a kaleidoscope of set-pieces involving sub-genres of screen gothic (Southern gothic in the traditional sense, mean street gothic, mafia gothic, redneck gothic), though none are fully realized or contextualized.
The film, then, does not grant access to the interior reality of Nikki (Laura Dern), as we are likely to assume, but to the creative impulse of Lynch, according to which Nikki is a mere prop – a mere marker of dramatic situations. It attempts to represent the unconscious crucible out of which more commonplace films emerge: a congeries of premises, erasures, and associative leaps, but all drawing on the vernacular of the cinema and linked by the purpose of film making. The 'inland empire' of the title is not hers, but with a certain Napoleonic vainglory his. Read this way, Inland Empire is associable with another eccentric masterpiece: Henri-Georges Clouzot's The Mystery of Picasso (1956). Much as Lynch documents the messy miscegenation of stirring artistic possibilities, Clouzot's camera follows the stroke-by-stroke action of Picasso's brush from the reverse side of a transparent canvas (glass?), and we witness Picasso's art in the fluid, revisionary process of being born.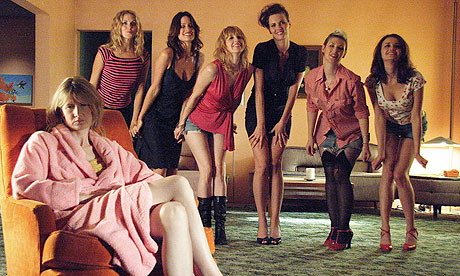 This interpretation makes sense of the decision to cast Dern. Whatever one thinks of her prowess as an actress, she does not project the kind of intricate interiority that makes Liv Ullmann so plausible as the axial consciousness of Persona. The key point is that the film does not require on her part the least complexity; whatever complexity she possesses is visited upon her by the relentlessly manipulative and associative directorial consciousness. Casting a somewhat better and more instinctively inward actress – say Cate Blanchett or Naomi Watts – would have obscured this point and disrupted the experimentally absolute narcissism of the exercise.
Halfway through the film, incidentally, I had an epiphany that the lone Orval in my refrigerator would be, by remarkable serendipity, the perfect beer to pair with Inland Empire. And indeed it was: vinous, viscous, dark, bitter, polysemous – a difficult beer that speaks to who-knows-what theological maze obscurely suffered by the monks who brewed it.