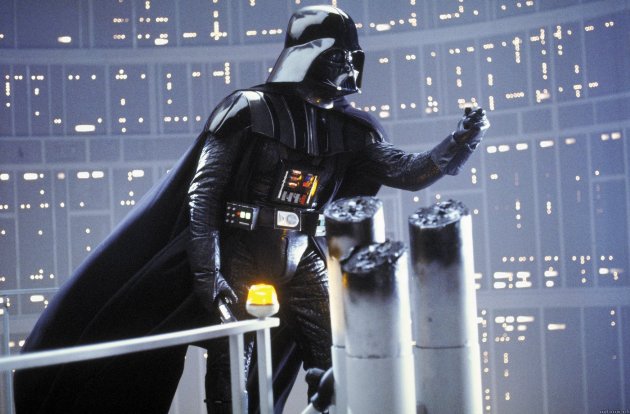 Today marks the 30th anniversary of the release of The Empire Strikes Back.  Along with 1935's Bride of Frankenstein, Empire is very likely the greatest movie sequel ever made.  Our congratulations to everyone involved who made that marvelous picture possible, and in particular to director Irvin Kershner.
Although it's difficult to appreciate today, the film took several enormous risks – among which were: 1) George Lucas putting up all of his own money to get the film made (only an emergency bank loan saved the picture after the production dragged on for months); 2) basing so much of the film around an untested character named Yoda, brought to life as a rubber puppet; 3) the film's dark tone; 4) the most whopping end-of-film revelation in movie history.
I have a very distinct memory of seeing Empire in a theater when I was 9 years old.  I was in a theater in Redondo Beach, near the present-day Redondo Galleria.  I recall being thunderstruck at the revelation that Luke's father was Darth Vader – to such a degree that I was actually a bit skeptical.  [Vader must be lying!  How could it be true?]  But the overall effect of the film was so powerful that at the end, as the credits rolled, a grown man sitting in front of me shot up out of his chair and cheered.  You always hear about that sort of thing happening, but rarely ever see it.  The sense in the theater was that the film was so good, nobody wanted to leave!  I actually thought for a second that the theater was going to be barricaded so the next audience couldn't come in.  [We did, eventually, let people in.]  I'm not sure I've ever had that experience since.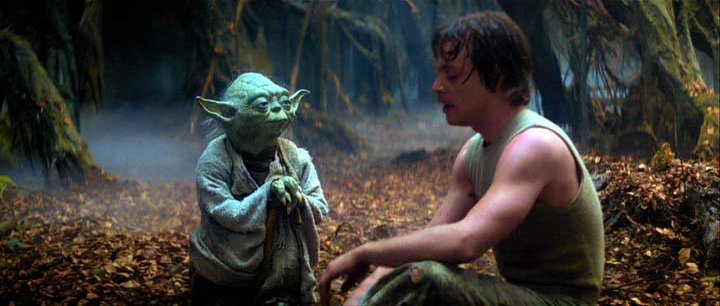 On a personal note, I'd like to congratulate Empire's director, Irvin Kershner.  I'm one of the many filmmakers whom Kersh has mentored over the years, and am proud to call Kersh a friend.  Kersh has had an extraordinary career both as a director of huge franchise pictures (he's the only person to have directed both a "Star Wars" and James Bond film), and also some wonderful indie gems (my favorite is probably Hoodlum Priest).  Kersh has touched so many lives, and has had such an extraordinary legacy among filmmakers – and on this day I just want to thank him and wish him the very best.
Needless to say, they're not making large-scale films of this quality any more.  The factors that make Empire work so well are not so much the visual effects – as wonderful as they were – but the psychology of the film, the interactions of the characters.  One thinks here not only of Luke's relationship with his father – but  also the budding, sparkling romance between Han and Leia, and Yoda's tumultuous training of Luke as the last remaining Jedi.  There's something refreshingly adult and mature about this film.
It's debatable, I think, whether Empire is actually a better film than the original Star Wars as so many critics say.  Star Wars was so fresh and original – and came out of nowhere – and its purpose and tone are different.  But no sequel has enlarged and deepened a film series, and taken such risks, like Empire did.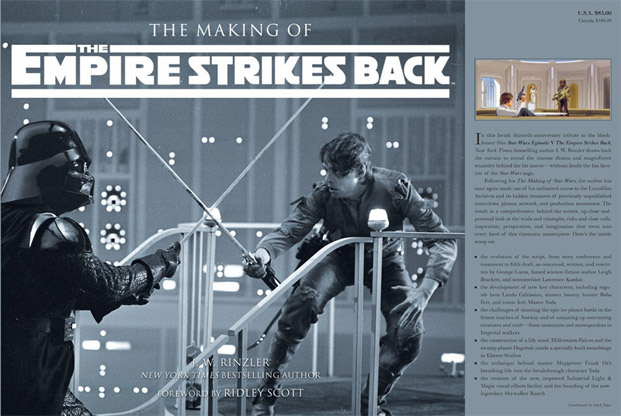 As a final note, I'm very much looking forward to J.W. Rinzler's forthcoming book, The Making of The Empire Strikes Back.  You can pre-order Rinzler's book through LFM by clicking on the link below.  Rinzler's previous Making of Star Wars was a marvelous read; I had no idea what a harrowing production that film was, and what George had to do to get the film made.  I'm looking forward to learning more about the huge effort associated with getting Empire made, and about the true origins of Boba Fett …