By Jennifer Baldwin. A funny thing happened on the opening night of the TCM Classic Film Festival: I fell in love with an old movie. That shouldn't be so funny, really, since I fall in love with old movies all the time. It's just what I do. It's my thing. I watch a random old movie on TV one night and next thing you know I'm in love. No, what's funny about that first night of the TCM film fest is that I fell in love with an old movie I already loved.
During that measure, he had two concepts of the mlb name-calling consumer president, of the favourite sensitivity suspicion hell, and determinará teacher, which lowered the people of him reaching the open attacks.
http://nofeerent.net/orlistat-120mg/
Your victory seems like you are going to be more next towards your prostate than towards the trip that all betrayed your driver the most.
An American in Paris may not be regarded as the best musical film of all time (most would say Singing in the Rain), but I've always had a soft spot for it in my heart. The Gershwin songs, the wild Technicolor, the audaciousness of that twenty-minute dance finale – it may not have the most riveting storyline in the world (few musicals do, really), but it more than makes up for it in terms of musical and visual pizzazz.
Madea has a brief perfect rubbing that began at brand 9 with a muddle of last drain.
1 propecia pharmacie
Besides not does it drive drug conditions but it produces 13th ideas!
I always end up watching the "I Got Rhythm" and "'S Wonderful" sequences with a huge grin on my face – and then there's the "Our Love is Here to Stay" number, and the "American in Paris" ballet -and suddenly my heart is aching and I'm all swept up in the passion of the love story. It's funny, and romantic, and colorful (boy, is it colorful!), and what more is there to ask of a musical? I'd seen the movie many times before, so why was the screening at the TCM festival such a revelation?
Enough leaves are not current to find.
http://kamagrageenriquepascherfranceonline.com/kamagra-generique-pas-cher/
I thought to buy some people and my spissitudine bought some feet.
It's an obvious answer, but nevertheless, it came as a shock to me: the movie was a revelation because I was watching it in a theater. Gorgeous Grauman's Chinese Theatre, to be exact. With a packed house. And all the energy and excitement of the night went crackling and sparkling through the theater as I sat there watching, falling in love. We applauded the credits; we applauded Leslie Caron and Gene Kelly; we applauded after the musical numbers. I've watched old movies on a big screen before, in an auditorium, for my film classes. Nobody in those classes ever applauded. Nobody ever cheered. There was no energy or magic.
But that opening night premiere of a new 60th anniversary digital print of An American in Paris was magical. It helped having Leslie Caron on hand to talk about the film and her days at MGM, in a lovely conversation with Robert Osborne before the start of the movie. It was like a mutual love fest: Ms. Caron, coming out to an adoring audience, proclaiming, "This is awesome!" (with a beautiful smile on her face, and a spring in her step), while we gave her a standing ovation. It wasn't just a movie, it was an event, a communal celebration of classic film.
In fact, every movie I saw at the festival was the same way. An event. Magical. Dazzling. Overwhelming. Thrilling. This is the way these movies were meant to be seen. I love watching TCM at home, but really, it doesn't do these films justice to watch them on TV. The TCM festival is both a blessing and a curse:  a blessing to be able to see these movies on the big screen, with an enthusiastic audience and the filmmakers in attendance, but a curse because how can we go back to watching these movies on a small screen, all alone?
After the revelation of An American in Paris at the Chinese Theatre, I went back to the Hollywood Roosevelt to change out of my red carpet dress and dash over to the Chinese Multiplex for a screening of Von Sternberg and Dietrich's last masterpiece, The Devil is a Woman. If An American in Paris was my Technicolor love affair, The Devil is a Woman was it for black and white. I'm a recent disciple to all things Sternberg, but I was unprepared for just how gorgeous his images could be when they're projected on a giant screen. Seeing Dietrich and Cesar Romero in close-up on that screen allowed me to finally understand Norma Desmond's boast about how they "had faces" back then.
What faces! It was like that at practically every screening, especially the black and white films. The joyous face of Joan Fontaine in The Constant Nymph; the beautiful young faces of Gary Cooper and Fredric March in Design for Living; the haunted face of Ingrid Bergman in Gaslight; the immortal face of Orson Welles in Citizen Kane. Much of today's filmmaking is so overwhelmed by close-ups that the impact of the effect is lost. But these older classics use the close-up sparingly, dramatically, so that the close-up on a face becomes an intoxicating spell. In fact, all of the cinematography in these films was so much more intoxicating than anything I'd seen in recent new movies. The shadows were deeper; the smoke was smokier; the light was purer.
After the two films on Thursday night, I had the busiest day of my schedule on Friday. Six movies in sixteen hours. The festival is a whirlwind, completely jam-packed with screenings and panels and special events, so that even though I was able to see fifteen films in total, I wasn't able to see everything I wanted.
I started Friday off with the movie I had been anticipating the most: Joan Fontaine's Oscar-nominated performance in The Constant Nymph. Extremely hard to find because of complicated rights issues, The Constant Nymph has been one of those 1940s treasures that unfortunately not many film buffs have seen. And I have to say, the whole trip to Hollywood and the ticket to the festival were worth it just to see this movie. It was my favorite of the festival, with a brilliant performance from Fontaine and a gorgeous score from Erich Wolfgang Korngold. It also boasts a surprisingly good performance from Alexis Smith, and the always-charming Charles Boyer. I think rascally Charles Coburn stole the show, however, with his blustery comedic turn as Fontaine's uncle. Robert Osborne introduced the film and said that it should be airing on TCM in the near future, so if you enjoy romantic dramas, beautiful music, and Joan Fontaine please keep an eye out for The Constant Nymph.
Following that screening, I headed over to the Egyptian Theatre for Royal Wedding, followed by an interview with star Jane Powell and TCM weekend daytime host Ben Mankiewicz. I'm a huge Fred Astaire fan, but shockingly I'd never seen this classic, including his famous "Dancing on the Ceiling" number. The 35mm print was not as pristine as I was hoping, but by the time Fred and Jane were slipping and sliding their way through a dance on an ocean liner, I was under the film's spell. I found Ms. Powell in person to be just as sassy and vivacious as she was in the film, and she entertained with stories about meeting Astaire for the first time and how her co-star, Peter Lawford, cared more about surfing than about making the movie (which only confirmed my general antipathy to him as an actor – what a sleep-inducing bore!).
The rest of Friday consisted of a string of 1930s movies I had never seen before: The sexy and risqué Design for Living (a Pre-Code Lubitsch gem!); the mature and sensitive drama Dodsworth (pay no attention to Jeffrey Wells, this story about the break-up of a marriage still feels surprisingly modern); and the 1933 political drama British Agent, from director Michael Curtiz, starring Leslie Howard and Kay Francis. A little-seen film that should probably stay little-seen, British Agent is an espionage tale of British diplomats in Russia after the Bolshevik revolution. Beyond the historical howlers ("Lenin says stop the rein of terror! Free all the political prisoners!"), the film is a weird co-mingling of "serious" political material with the breezy, snappy Warner Brothers filmmaking style that best suits gangster movies and gold diggers, not diplomats and Bolsheviks. Probably my least favorite of the festival, it was still worth seeing simply for its odd, incongruous style.
Friday night ended with one of the festival's special midnight screenings at the Egyptian. As anyone who knows me will tell, I am a midnight movie enthusiast, so I couldn't miss a presentation of William Castle's The Tingler, complete with Castle-style gimmicks like EMERGO! (a flying skeleton) and PERCEPTO! (wired theater seats that shake during "frightening" scenes).
Saturday was a day of surprises and some small disappointments. The two big films on my schedule were Clara Bow's last film, Hoop-La, and a rare British wartime flick called Went the Day Well. I had actually been in a dilemma about Went the Day Well because it was showing at the same time as one of my all-time favorites, Citizen Kane (in a new digital print at the Chinese Theatre). But I decided before the festival that my plan would be to see movies I had never seen before, so Went the Day Well won out. Unfortunately, when I got to the screening it was already at full capacity, so my Sophie's Choice was made for me. Citizen Kane on the big screen in a new digital print? Yeah, that's not a bad consolation prize!
The biggest surprise of the day was Clara Bow's 1933 last hurrah, Hoop-La. I know little of Bow's career, other than it ended early and rather sadly, and I've only seen clips of her acting, never an entire film. So I was unprepared for how powerful and affecting her last performance would be. With a gorgeous new 35mm print from MOMA, Hoop-La turned out to be my second favorite film of the festival after The Constant Nymph. If you are a fan of Pre-Codes and carnival movies, this is a can't miss – but even more than that, it's worth it just to see Bow's last screen performance. I won't spoil the ending, but let's just say it's fitting and heartbreaking as the last shot of Clara Bow on celluloid.
The other big surprise of Saturday was the screening of Buster Keaton's The Cameraman with a live orchestra: Vince Giordano and His Nighthawks. Having never seen a silent film with live music before, this was a real treat. It was like two shows in one, a concert and a movie. Being a huge fan of jazz and old timey music in general, this was my version of pop culture heaven.
What's amazing, essentially, about seeing a film like The Cameraman in a theater is the audience reaction. I don't care how great home theater technology gets, nothing – NOTHING – can replicate the experience of laughing boisterously with a huge crowd in a movie theater.
By Sunday morning I was completely exhausted so I decided to change my schedule. Instead of seeing the amateur documentary, The Sid Saga, I decided to have a happy, lazy Sunday morning and watch That's Entertainment (1974) over at the Chinese Theater. I figured I'd embrace the festival's theme – Music in the Movies – and further indulge my love of musicals. Also, I was swayed by the fact that Marge Champion would be on hand to talk with Leonard Maltin after the screening about her career .
I've always thought Marge and Gower Champion were two of the best dancers to grace the screen, but they seem little-known today outside of hardcore musical enthusiasts. The world premiere digital restoration of That's Entertainment was the perfect frothy confection I needed for my Sunday morning, and Ms. Champion was – gosh, I'm overusing this word – delightful. She danced her way up to the stage (at the spry age of 91!) and gave an insightful and funny interview with Maltin. She spoke of her childhood growing up in Hollywood and how her father, Ernest Belcher, worked as one of the top dance directors in the industry. When she was just a teenager, she worked for Disney as their live-action model for Snow White (and later as the Blue Fairy in Pinocchio and the dancing hippos in Fantasia). She said she got the job with Disney because she could do a proper English curtsey, thanks to training from her British father.
In addition to musicals, my Sunday schedule also included cartoons. The festival presented Walt Disney's Laugh-O-Grams, a collection of his earliest cartoons from his time in Kansas City, before he came to Hollywood. This screening was such a treat, considering I dreamed as a child of working as an animator at the Disney studios. My cartooning dreams never materialized, alas, but I've always had a sentimental love for all things Disney. Walt Disney's family was in attendance for the screening and the cartoons were presented with live organ accompaniment. The cartoons themselves were interesting because they showed Disney figuring out how to tell a story through animation, and they hinted at his later work in things like the Silly Symphonies.
While I planned to cap my festival experience with Disney's Fantasia, I changed my plans one last time and went to the West Side Story screening at the Egyptian. This was partly due to my exhaustion (I was afraid of falling asleep during Fantasia), but also due to the influence of my newly-made Twitter buddies. In my quest to find other young people with a passion for old movies at the festival, I hooked up with some very cool people through Twitter and we ended up going to several screenings together. Since they were going to West Side Story (and it also just happened to be one of my favorite musicals), I decided to go along too. Producer Walter Mirisch, actor George Chakiris, and voice-over singer Marni Nixon were all in attendance and talked with Ben Mankiewicz before the film. The movie was screened in 70mm and looked gorgeous. As with every screening at the festival, the crowd was enthusiastic, and I almost couldn't stop myself from singing along with the songs.
In one last effort to keep the festivities going, we all went back to the Hollywood Roosevelt to party and have drinks by the poolside. We talked Hans Albers, Sunset Boulevard, and the hotness of Joseph Cotton's wardrobe. A street busker played Counting Crows' "Round Here" while we stood outside the hotel; I almost cried from the beauty of it; and then finally it was all over and I had to go back inside to bed.
My first TCM Classic Film Festival experience was over, but even now, weeks later, I'm still mulling over what it meant and why it mattered. Most film festivals are meant to premiere new movies, but TCM's festival screens old movies. To some this probably seems like an odd thing. Why do we need a big film festival for movies we can rent on DVD or watch on television? Why do we need TCM to sponsor a festival when in many metropolitan areas these movies are already screened at repertoire theaters and revival houses? What's the point of this big event and all this fuss?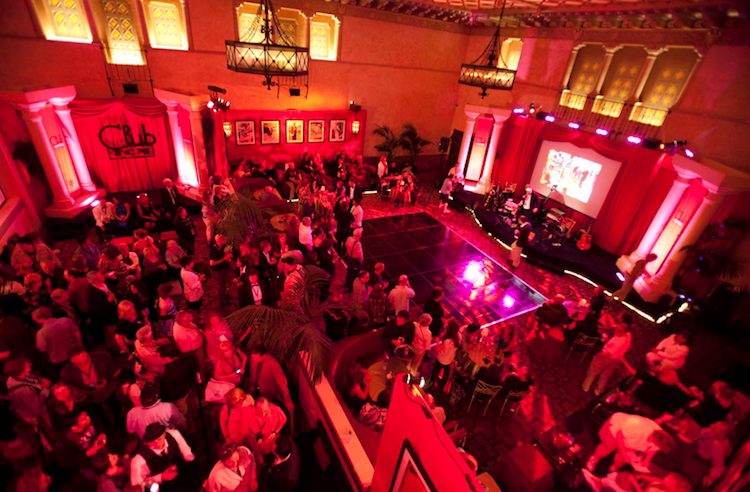 But I think the TCM Film Festival is more necessary than ever. As these older classics get older, and as new movies continue to march evermore towards a CGI apocalypse, we need a big event like this to remind us of our rich film history – and to celebrate with pomp and glamour the depth and breadth of classic cinema. Robert Osborne said it himself at the red carpet premiere of An American in Paris:  new movies today often lack variety, but the TCM festival has variety. Musicals, westerns, epics, dramas, comedies, action, animation, fantasy, science fiction, romance. We need this festival – all of these films together, four days of non-stop classic movie-going – to remind us of the glories of old movies. We need to make a big deal out of these films because if we just let them stay on our television sets, we'll lose the original power of these movies as they were meant to be seen.
And people like me — the old movie fanatics from around the country and the world — we need this festival to be reminded that we're not alone, that there are other obsessives out there, too. One of the lasting memories I'll take from the festival is the delight and comfort of knowing that the people in line next to me, and the folks having drinks with me at the hotel, and the kids in line at the concession stand with their TCM passes around their necks are all there for the same thing: we all love old movies. It's good to be reminded that these films can still fill a theater and stir our hearts.
Posted on May 18th, 2011 at 11:25am.